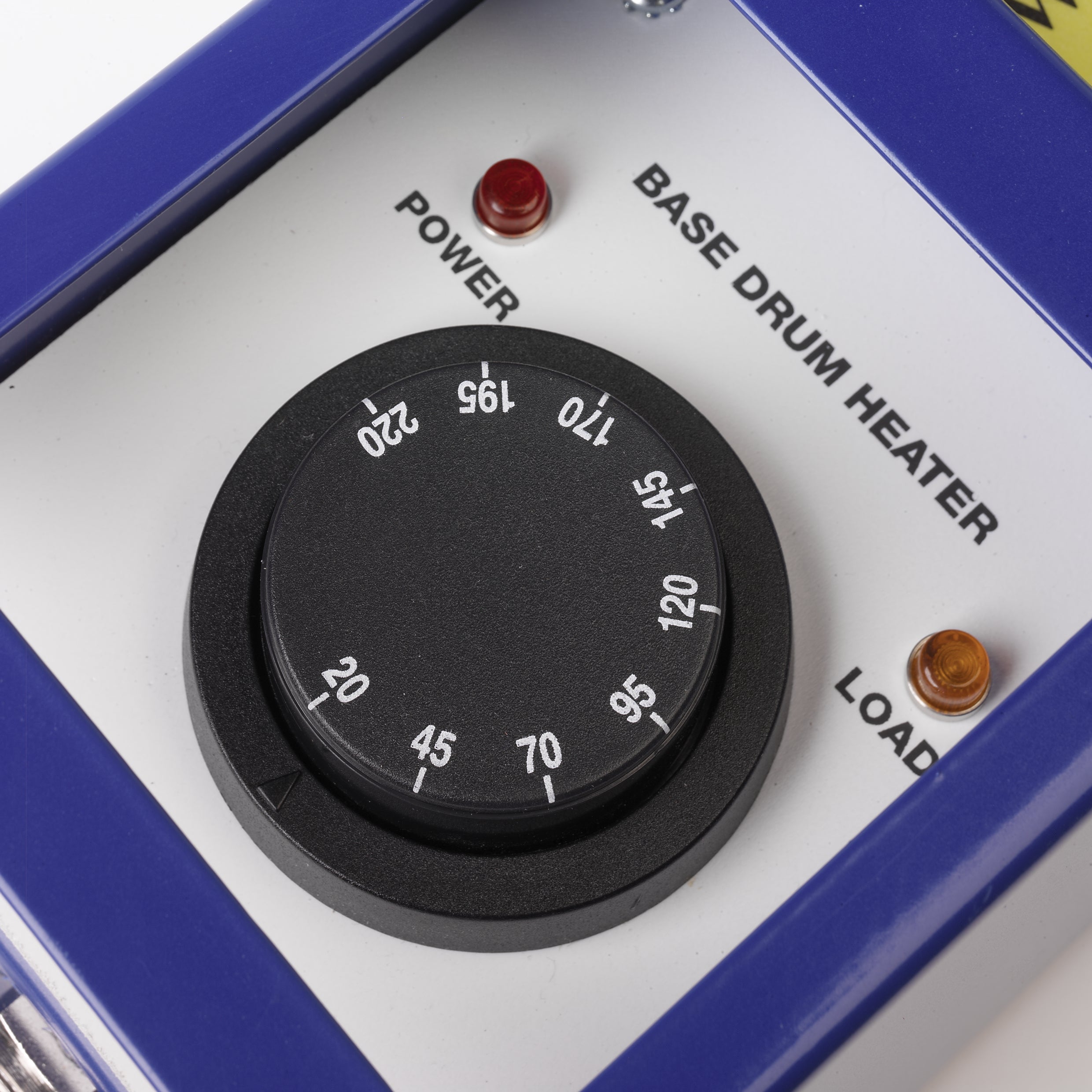 Drum Heaters
1 to 55 Gallon Base Drum Heater (220V)
$745.00
About
220V, 900 Watt CHR Base Drum Heater. Heats to 300°F
Featured Specs
| | |
| --- | --- |
| Dimensions | Height 2.75", Diameter top 21.65", Base 23.65" |
| Heat Range | Up to 300F |
| Watts | 900W |
| Volts | 220V |
| Availability | Sold out. |
View full details
220V, 900 Watt CHR Base Drum Heater. Heats to 300°F
The rugged and simple to use CHR Base Drum Heater:
The diameter of the base enables use on all sizes of drums up to 55 gallons (200L). Heat is provided by a 900W silicone rubber insulated heater mat, providing an even distribution of heat to the base. If a rapid heat up is required or solid mediums are involved requiring higher power input, CHR Full Coverage Drum Heaters can be used with the Base Drum Heater to achieve maximum results.
The design has the drum bottom fitting "over" the heater so the heater makes direct contact with the bottom of the drum.
Construction
The Base Drum Heater is manufactured from 2mm thick mild steel for extra rigidity on uneven surfaces with tapered edges for safe ease of drum location and is protected by a resilient high temperature coating. Temperature adjustment is made via a rear aperture in the control unit, with neon light indicating power on & when heating via a window in the control unit top. Heat is supplied via a silicone insulated etched foil heater giving a uniform temperature across the platen face. Insulated with 2" of high density "rock wool."
Technical Data
Power Rating: Standard 220V 900 Watts
Temperature Control: 300°F
Supply Lead: 6' flexible armored
Platen: Height 2.75", Diameter top 21.65", Base 23.65"
Control Unit: Height 105mm, Protrusion 280mm
Overall Unit: 34.65" Long, 23.65 Wide, 4.25" High
Health and Safety
Care should always be taken to ensure the drum is adequately ventilated before applying heat.